De Kanovijver - Playground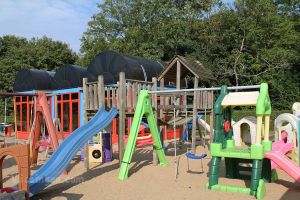 An idyllic spot, perfect for a day out with family or friends. Located in a picturesque setting, this place offers a peaceful escape from the hustle and bustle of the city and activities for all ages.
What can you expect at De Kanovijver?
Soothing Nature: De Kanovijver is surrounded by greenery and provides a serene environment to relax and enjoy nature.
Canoeing and Water Fun: Rent a canoe and explore the pond, a perfect activity for both beginners and experienced paddlers.
Children's Activities and Playground: While parents relax and enjoy a snack and a drink, children can have fun in the playground.

Experience the Peace and Beauty
Whether you're looking for an active day on the water or a quiet place to enjoy nature, De Kanovijver in Vlissingen has something for everyone.
Furthermore De Kanovijver is near the following sights: Panorama Walcheren (±1,2 km), Playground Lammerenburg (±1,3 km), Cine City (±1,4 km), Zeemanserve (±1,7 km) & Sun Train Zeeland (±1,8 km).
For information:
Nollepad 3, Vlissingen
web.
Website