Cine City - Entertainment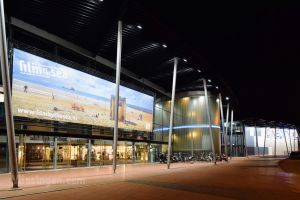 Cine City is a multiplex cinema in Flushing. The complex features 7 movie theaters with a total of 1211 seats, a cafe-restaurant with 135 seats and a conference room.
You can book at Cine City by phone or website. Booking at Cine City is free, your tickets will be held until half an hour before the showing. Don't forget to remember your reservation number, you'll need this at the box office.
Furthermore Cine City is near the following sights: Zeemanserve (±300 m), Sun Train Zeeland (±400 m), Stadswandelingen Vlissingen met gids (±400 m), Iguana Reptile Zoo (±400 m) & Panorama Walcheren (±450 m).
For information:
Spuikomweg 1, Vlissingen
tel. +31 900 936 3
web.
Website