Jachthaven Vlissingen - Marina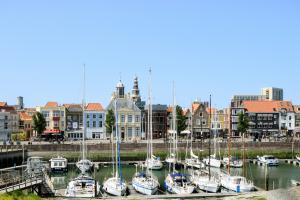 It's the combination of this modern marina in a historical decor of the old VOC city of Flushing that gives it a special feeling to visitors and berth holders. An optimally sheltered home for about 90 berth holders and thousands of passers-by, who visit the harbor during the summer season.
Come take a look and enjoy the unique view of the Westerschelde. No other place in the Netherlands and beyond offers such an unique combination of comfort, safety and nostalgia.
Furthermore Jachthaven Vlissingen is near the following sights: Maritime MuZEEum Zeeland (±70 m), Casemates (±125 m), Gaming Factory (±150 m), Reptile Zoo Iguana (±250 m) & Sun Train Zeeland (±300 m).
For information:
Michiel De Ruyterhaven
De Ruijterplein 1, Vlissingen
tel. +31 118 414 498
web.
Website