Middelburg Boat Tour - Rondvaart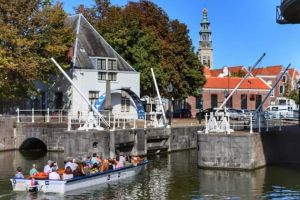 Experience the historic city of Middelburg from a unique perspective with Middelburg Cruise. This relaxing boat trip takes you along picturesque canals and under old arch bridges while you enjoy the beautiful architecture and tranquil waterways of the city.
What to Expect at Middelburg Cruise?
Scenic Cruise: Enjoy a leisurely cruise through the canals of Middelburg, with a unique view of historic buildings and beautiful gardens along the waterfront.
Expert Guides: During the approximately 40-minute cruise, experienced guides share interesting stories and facts about the history and architecture of Middelburg.
Beautiful Photo Opportunities: The cruise provides plenty of opportunities to capture stunning photos of the historic city from the water.
Comfortable Boats: The cruise boats are comfortable and provide a safe and pleasant experience for all ages.

Experience the Beauty of Middelburg from the Water
Enhance your visit to Middelburg with a charming cruise and discover the hidden charms of this historic Dutch city.
Furthermore Middelburg Boat Tour is near the following sights: Abbey Tower De Lange Jan (±600 m), Zeeland Museum (±700 m), Indoor Karting Middelburg (±2,1 km), Mini Mundi (±2,6 km) & Indoor Playground Monkey Town Middelburg (±2,6 km).
For information:
Rondvaart Middelburg
Achter de Houttuinen 39, Middelburg
tel. +31 118 643 272
web.
Website