Indoor Karting Middelburg - Attraction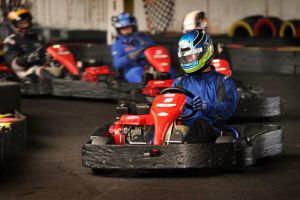 Want to challenge and beat your friends or family at the most fun and best kart track in Zeeland?
Drive off with squealing tyres and then cut the corner at full throttle without even looking back. On public roads, this will get you a fine and a sermon, but at Karting Zeeland, it might just get you first place.
So book a few kart heats or (children's) package now and see if you can set the track record!!!
We have extensive experience in organising events for large and small groups. The possibilities are endless, so there is something for everyone.
Furthermore Indoor Karting Middelburg is near the following sights: Zeeland Museum (±1,6 km), Abbey Tower De Lange Jan (±1,6 km), Bounce Vally (±2,0 km), Mini Mundi (±2,0 km) & Indoor Playground Monkey Town Middelburg (±2,0 km).
For information:
Book tickets online
Arnesteinweg 19, Middelburg
tel. +31 118 617 475
web.
Website