Boulevard Evertsen - VZ673 - Studio apartment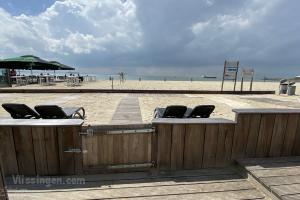 These unique studios on the beautiful beach of Vlissingen feel like a luxury hotel room. Enjoy the murmur of the sea or the setting sun on your own terrace. Take a refreshing dip in the sea, take a lovely walk on the beach, play a game of beach volleyball or enjoy a snack on a drink in the adjacent Sand Pavilion. By the way, did you know that nowhere in the world ships sail as close to the coast as here, about 200 meters from the studio! On some days major events take place on the beach, for an up-to-date overview please contact us.Falling asleep with the sound of the sea in the background. Awaken to the sound of seagulls. Enjoy the most beautiful sunsets. The feeling of the sand between your toes. The children who can play in front of the door. A wonderful summer evening is of course not complete without a barbecue. Possibility to bring your own BBQ with a fantastic view. Sleeping on the beach is an unforgettable experience.- Dogs are only allowed in the period from 15 September to 15 April. - In the high season from mid-April to mid-September you also have your own sunbeds on the beach.
A 2-person beach studio with fantastic views
For information and reservation
Search & Book
Boulevard Evertsen, Vlissingen
tel. +31 118 744 025
web.
More information