Oyster Farm Yerseke - Sight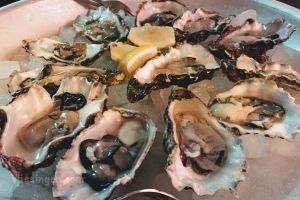 Located in the picturesque town of Yerseke, known as the center of oyster and mussel culture in the Netherlands, the Oyster Farm Yerseke offers a unique experience for seafood enthusiasts. This special location combines a historic setting with the rich tradition of shellfish culture.
What can you expect?
Educational Tours: Learn about the history and process of oyster and mussel culture in Yerseke by taking a guided tour. Discover how oysters and mussels are cultivated, harvested, and processed.
Tastings of Fresh Seafood: Taste the freshness of the sea with an assortment of carefully prepared oysters, mussels, and other seafood. A true treat for food connoisseurs!
Scenic Surroundings: Enjoy the charming and rustic surroundings of the Oyster Farm Yerseke, with a beautiful view of the oyster beds and the waters of Yerseke.
Local Product Shop: Visit the shop where you can purchase local products and souvenirs, from fresh seafood to artisanal treats.
View Terrace: Relax on the terrace with a stunning view of the oyster beds and the surroundings, an ideal spot to enjoy a snack and a drink.
A Must-See for Seafood Lovers
Visit the Oyster Farm Yerseke in Yerseke for an unforgettable experience. Discover the fascinating world of oysters and mussels, taste the rich flavors of the sea, and immerse yourself in the local culture and traditions of this unique region.
Enjoy the taste of the sea at the Oyster Farm Yerseke in Yerseke!
For information:
Havendijk 12, Yerseke
web.
Website