Big church Veere - Monument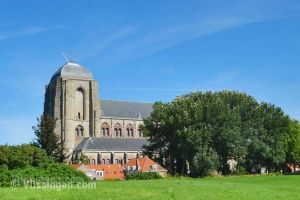 The Grote Kerk (Big church) in Veere is from 1348 and it is a really great sight. As from 1811 the church was being used by Napoleon's soldiers as a military hospital; the church was a beggars house and a barrack for a while as well. You can still clearly see the traces of an eventful past.
Visit the experience
The Grote kerk in Veere is a gigantic stone building in a tiny city. The windows are made with bricks and the window sills with gravestones. This church is full of mysteries and secrets. Why was the building never completed? What has been happening here over the centuries? Step into history and find out! Listen to the story of Mary, the lost Scottish princess. Discover the legend of the mummified cat in Veere. Listen to the feverish dreams of wounded French soldiers. Leave a message at the writing desk of Dutch author Nescio. Dive deeply into the dazzling brush strokes of famous painters. Falling in love with Veere, in the Grote kerk.
For information:
Book tickets online
Oudestraat 26, Veere
web.
Website