Familiehuis Watertoren - Cottage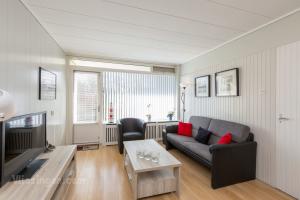 Sleeping in a water tower-an unforgettable experience! This converted water tower from 1896 is full of surprises for all ages. It has 4 bedrooms, 2 bathrooms, 2 toilets, a play area, large garden and a meeting room that seats 12. Experience the beautiful view from the original water tank with windows on all sides and the lookout tower at 36 metres height. Look out over the entire city and lo and behold, the sea beckons, right there, behind the boulevard. Amazing!
Accommodation
On the ground floor is the large eat-in kitchen which allows 8 people. There is a dishwasher, 5-burner gas stove including a wok burner and a double hot air oven. The transparent glass gas fire provides an atmospheric partition and also a view into the living room. The high ceilings in the living room further accentuate the round shape of the tower. Delightful relaxing sofas, armchairs and a private entrance to the garden platform complete the luxurious living area. On the second to the third floor are a total of 4 large double rooms. There are two luxury bathrooms with walk-in shower, bathtub, bathroom furniture and toilet. One of the bathrooms even has a comfortable sauna. From the fourth floor, a beautiful spiral staircase leads to the area below the water tank. From there, you can enter the immense water tank. Only then do you really experience how much water was once stored in the tank: 300,000 litres. There are windows on all sides, offering an unobstructed view of the surroundings, the city and even a little bit of the sea. Climb even higher at 36 metres, a unique lookout tower. In the almost industrial basement there is a fully equipped playroom with Photo Play, Pacman and billiards, among other things. You can also use the washing machine and dryer located here.
Unique! Enjoy space, privacy and luxury in this converted water tower in walking distance from the beach and the boulevard.
For information and reservation
Search & Book
, Vlissingen
web.
More information