Boulevard Bankert - VZ1102 - Apartment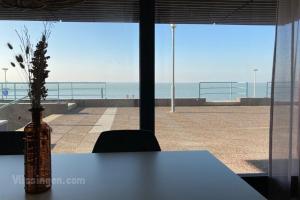 Luxurious and modern beach apartment with sea view on Boulevard Bankert in Vlissingen, for 2 persons (adults)In Residence Admiraal Tromp on Boulevard Bankert in Vlissingen, this beautiful and *very luxuriously furnished corner apartment* is located on the ground floor with a truly **wonderful sea view on two sides**. There is a small seating area in front of the Vlissingen beach apartment. *You will be on the bathing beach of Vlissingen within a minute!* A unique place in Zeeland with the most hours of sunshine in the Netherlands.The pet-free corner apartment has a large sitting and dining area with sofa bed with a view of the sea and beach, an open kitchen with induction hob, combination microwave, fridge with freezer, dishwasher, Nespresso coffee machine and kettle. It also has a bedroom with a double bed with television, *luxury bathroom,Led TV, wi-fi internet2 single mattresses (90 x 200 cm)King size duvet (240 x 220 cm)Central heatingPets not allowedBedroom and bathroom on the ground floorSmoking not allowedYou are within walking distance of various restaurants and terraces. In addition, you can walk to the bustling Bellamypark Vlissingen with cozy restaurants and terraces in 10 minutes, as well as the (shopping) center of Vlissingen.The three Boulevards of Vlissingen are truly unique. The Boulevards Evertsen and Bankert with the beautiful and guarded bathing beach and Boulevard de Ruyter where you can almost touch the *large seagoing ships!* Vlissingen itself is a tough and robust maritime city, where there is always something to do.
2-Person (adult) Holiday apartment in Vlissingen on the Boulevard
For information and reservation
Search & Book
Boulevard Bankert, Vlissingen
tel. +31 118 744 025
web.
More information